to the magical towns of Oybin and Lueckendorf, where the old steam engine puffs into the station, announcing guests' arrival; where people lovingly care for the traditional "Umgebinde"-houses of their grandparents; where innkeepers treat their guests to homemade delicacies such as "Stupperle" (potato dumplings with sauerkraut and bacon) and their own version of "Kleckselkuchen", a delicious local cake; where the hotels are cozily small and the rentals homier than home.

The Oybin Castle and Monastery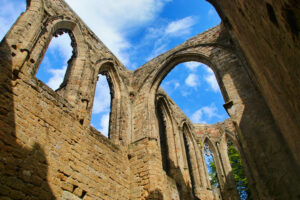 The massive rock formation, Mount Oybin, is topped by the ruins of an ancient fortress and monastery. Quiet songs can be heard in the former church, as though the monks were still in residence. In an overwhelmingly beautiful scenery, this place has inspired writers, poets and painters for centuries already. The Brothers Grimm recounted the legend of the "Virgin's Jump" (Jungfernsprung), Caspar David Friedrich painted the ruin. Romantics, athletes and dreamers alike can experience this mysterious magic here 365 days a year.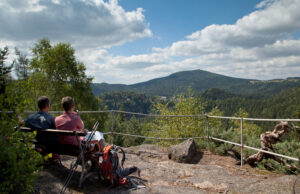 Nature creates fairy-tale views here, more beautiful than any human imagination. Like a "playground of the gods", the craggy rock formations create a heavenly backdrop. Just behind the "Forest-Gatekeeper" (Waldtorwächter), "Rose-Stones" (Rosensteinen) and "Rock alley" (Felsengasse), is where the sun wakes up each morning. She arises behind the Czech "Friar's Stone" (Pfaffenstein), wanders over the Bohemian mountainsides and then off into night-time behind the "High Forest-Mountain" (Hochwald). To have a picnic while enjoying the nuances of light playing over a field of wildflowers, green treetops and gentle mountain peaks – this is vacation at its finest.
Children can cuddle with real sheep or a "laying hen", "turtles" and a "parrot" in the stone zoo – animals of stone, created by the artist Nature.

Spring, summer, fall and winter – flowing dream-like one into the next – from spotting the first delicate yellow wood anemone on St. John's Stone, crossing beautiful fields of daisies on "Summer Hill", discovering plums in an orchard, to delighting in sparkling snow crystals on the Hochwald toboggan run.
Letting your heart frolic, being active out in nature, taking a trip through time and experiencing cultural events with a fascinating backdrop – experiences you won't forget, whether in hiking boots, on a bike, in climber's gear or on skis.
Travelling freely and easily among the three countries meeting here – Germany, Poland and the Czech Republic – through the landscape which is like a fairy tale. Magnificent buildings, castles and palaces have been lovingly restored and are just a hop, skip and a jump away.